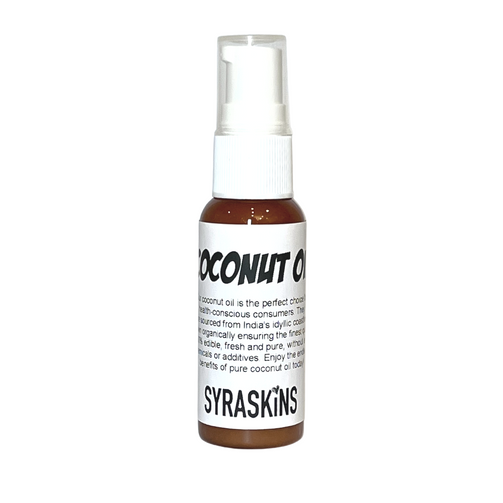 Coconut Oil - 30ml
Coconut Oil - 30ml
Regular price

$10.00 SGD

Sale price

$8.00 SGD
SyraSkins coconut oil is the perfect choice for health-conscious consumers. They are sourced from India's idyllic coastline. Grown organically ensuring the finest quality. 100% edible, fresh and pure, without any chemicals or additives. Enjoy the endless benefits of pure coconut oil today!
Coconut oil is a versatile and popular natural product known for its numerous potential benefits. Here are ten of them:
Skin Moisturizer: Coconut oil is an excellent natural moisturizer. It can help hydrate and nourish the skin, leaving it soft and smooth. It's particularly effective for dry skin.

Hair Care: Coconut oil can be used as a deep conditioner for hair. It helps reduce protein loss in both damaged and undamaged hair, making it stronger, shinier, and less prone to breakage.

Antioxidant Properties: It contains antioxidants such as vitamin E, which can help protect the skin from damage caused by free radicals.

Anti-Inflammatory: The lauric acid in coconut oil has anti-inflammatory properties, which can help reduce inflammation when applied topically and may assist with conditions like eczema and psoriasis.

Lip Balm: Due to its moisturizing properties, coconut oil can be used as a natural lip balm to prevent chapped lips.

Oral Health: Oil pulling, a traditional practice of swishing coconut oil in your mouth, may help improve oral health by reducing harmful bacteria and promoting fresher breath.

Weight Management: Some studies suggest that the medium-chain triglycerides (MCTs) in coconut oil can help boost metabolism and aid in weight management when used as part of a balanced diet.

Cooking: Coconut oil has a high smoke point, making it a suitable cooking oil for frying and sautéing. It imparts a pleasant, mild coconut flavor to dishes.

Brain Health: MCTs in coconut oil are believed to provide a quick source of energy for the brain and may have potential benefits for brain health, particularly in conditions like Alzheimer's disease.

Wound Healing: Its antibacterial and antifungal properties may aid in wound healing and prevent infections when applied topically to minor cuts and scrapes.
It's important to note that while coconut oil offers these potential benefits, it may not work the same way for everyone, and individual responses can vary. Also, moderation is key, as coconut oil is calorie-dense. Using it in conjunction with a balanced diet and consulting a healthcare professional for specific health concerns is recommended.
Couldn't load pickup availability